Seamless Gutters
Seamless gutters protect your most precious asset, your home!
What Are Seamless Gutters?
Continuous Gutters are nationally recognized as the most popular form of guttering. Seventy-five percent of all gutters installed throughout the nation are continuous or seamless. Its popularity is easily understood because…
Seamless Gutters Eliminate Unsightly Seams.
Reduces the possibility of leaks.
Baked on enamel finish never needs painting.
Protects the beauty of your home and landscaping.
Formed on the job site for exact measurements.
Most jobs are completed in one day.
Many colors from which to choose from.
The Purpose of Seamless Gutters
The purpose of seamless gutters is to collect water from the roof and disperse the water away from your home. Properly configured downspouts are very essential in this process.
For the most part, gutters go unnoticed. Faulty gutter systems can contribute to problems like damages soffit, facia, and shingles. Not to mention costly damage to building foundations, driveways, walkways, and landscaping.
Gutter systems require maintenance to ensure protection for your home. Make sure your gutters are free from debris, such as leaves, granules from shingles, and the occasional bird nest. (it happens more often than one might think) The extreme exposure to nature can also cause sealant failures. Snow and ice can loosen fasteners which should be repaired immediately to prevent costly future repairs. We recommend getting your gutters cleaned and inspected twice per year by the professionals at Ty Construction and Seamless Gutters.
When Is It Time To Replace Your Gutters?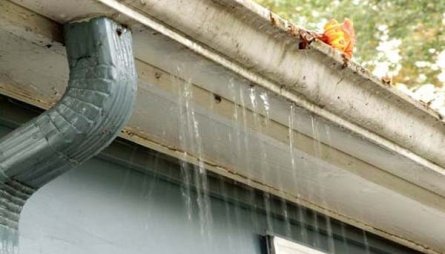 There are six obvious signs that your home is due (or even past due) for new gutters:
You are experiencing water leaking into your basement and/or the presence of mold.
Your gutters and downspouts are hanging away from your home, or have fallen off completely.
Your gutters have holes in them from rust or damage, or the seams have separated.
There is standing water in your gutters.
The finish on your home is discoloring and peeling, or your facia board is corroding.
Your gutters WERE NOT originally installed by Ty Construction and Seamless Gutters.
You Have Decided to Replace Your Gutters...Now What?
A quick call, text, email, or quote request is all you need to get your gutters and home back to its original beauty and proper function!
Professional Installation
For the average house, installation will be done in one day. The professionals at Ty Construction and Seamless Gutters will arrive with a truck and trailer-mounted seamless gutter machine with the gutter and downspout color that you have previously selected.
Each piece is measured individually, and the seamless gutter machine works to create a continuous piece of gutter that is custom sized.
The next step in the gutter installation process is the installation of downspouts. Downspouts will be located as needed according to the amount of roof runoff each section of gutter has to handle. The installer will also find the best downspout location for directing the runoff away from the house.
The final step in the process is to do a thorough walk-around and job site cleanup. The installers will clean up all the parts and pieces of your old gutters and downs and take them with them when they go. You will be left with a brand new gutter system and a new peace of mind. Your home and your wallet will thank you for taking care of them and trusting the professionals at Ty Construction and Seamless Gutters!
Gutter & Downspout Maintenance
Why Gutters Need Cleaning
Gutter cleaning is a necessity when it comes to home maintenance. Clean gutters ensure that water drains away from the homes foundation properly. This will prevent damage to the home, foundation and landscaping.
To prevent clogged downspouts, it's important to have your gutters cleaned on a regular basis. The most efficient way to do this is to hire a professional gutter cleaning company.